Kitchen refresh lets the sunshine in
Article content
Homeowner Mary Kestler had one big ask for her Scandi modern-inspired kitchen renovation: yellow.
"It's just a happy colour," Kestler says. "We live in Vancouver, and it rains, you know? It's grey for six months of the year, so things have to be light and bright and sunny inside."
Article content
Her circa-1985 home on the city's west side wasn't exactly standard-issue, either, with a steeply pitched roofline and banks of large skylights. "Nothing about our house is typical or standard; it's not a box," says Kestler. "So there's no way the interior design was going to be what I'd consider typical. It needed to be funky."
Article content
Though yellow was "a specific ask" and not a colour interior designer Denise Ashmore normally gravitates to, she clearly understood the assignment: to deliver a bright, yet soft shade alongside easy-to-embrace neutrals and natural textures. "We were always trying to balance it … to make sure it wouldn't get tired or just be overwhelming," adds Ashmore, principal of Vancouver-based Project 22 Design.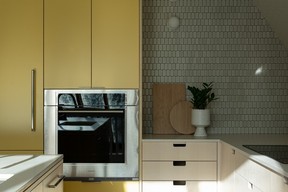 The family had bought the house in 2016, embarking on a series of updates leading to the recent project: a refresh of the kitchen, dining room and two bathrooms. The tired kitchen, where things were "falling apart," was the big trigger for this round of renos, Kestler says. They also wanted more space for entertaining.
Studying the floor layout, Ashmore quickly realized the kitchen couldn't accommodate enough extra seating, and suggested expanding the dining room instead.
Next, Ashmore set to overhauling the kitchen, reorienting the layout to fit an oversized island, with casual seating for everyday meals and family time. As she and Kestler worked through 3D concepts and inspiration photos for the rest of the design, Kestler kept circling back to plywood-style cabinets, as a complement to the yellow shade they'd selected as the accent (Sherwin Williams June Day).
Article content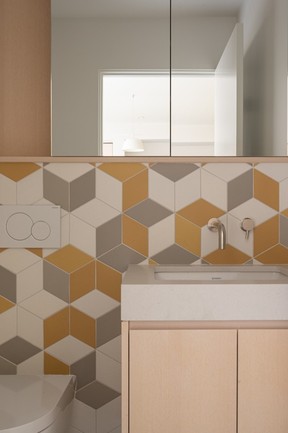 Collaborating closely with a millworker, they landed on durable ash veneer with a visible grain. Custom cut-out handles add to the Scandi feel of the space, as do simple, sculptural white light fixtures over the island.
Elsewhere, careful planning helped maximize utility. A small-footprint induction cooktop tucks neatly into an existing masonry nook, under an angled ceiling, now clad in easy-to-clean engineered quartz. Concrete-look Caesarstone countertops and muted grey tiles balance the burst of yellow, while large-scale porcelain floor tiles also give the feel of matte concrete. The aggregate look is timeless and clean, with a playful edge.
A similar interplay of finishes continues in the powder room, where graphic patterned tiles by Italy's Mutina Ceramics are the centrepiece, adding another touch of sunny yellow.
On the first floor, Kestler's two teenage daughters needed a larger and better laid-out bathroom near their bedrooms. Clawing some space from a neighbouring laundry room, Ashmore obliged, pulling in ash millwork and a palette similar to upstairs, but accented with misty blue-grey Mutina tiles—no yellow here. Brushed nickel fixtures, a pill-shaped mirror and large shower round out the space stylistically, while a simple glass wall maximizes the shower visually and in footprint.
Article content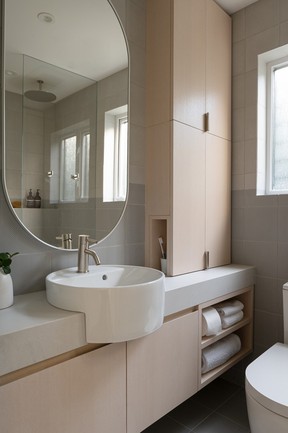 To gain every inch of elbow room possible for the girls, the design team created ample storage space using a combination of closed cabinets and clever open shelving, like a toothbrush niche—and shelving for toilet paper in beside the toilet, where drawers or doors wouldn't have space to open. "It was such a tiny bathroom that putting a semi-recessed sink in was also important," Ashmore says.
Since the renovation wrapped up in 2022, the updated space has been working beautifully for the family, Kestler says. Down the road, they plan to tackle more projects in phases, including a laneway home and an exterior update.
But for now, daily life centres around the sunny, refreshed kitchen. And life is good. "We spend all of our time in that kitchen," says Kestler. "You cook, you have drinks, you have people sitting there. It's a wonderful room."
Design: Project 22 Design
Millwork: SOMA Millwork & Design
Construction: Jordan Dion-Duval and Gui Harbec, Line Contracting
Related Stories
Classic 1970s post-and-beam home revitalized for ultimate indoor-outdoor living

Cool greys, blues and whites key to capturing that coastal vibe