Article content
One of Windsor's oldest law firms has reached the century mark and is hosting an open house Thursday to celebrate its birthday and, belatedly, its move to new downtown digs.
The COVID-19 pandemic prevented any public event when Mousseau DeLuca McPherson Prince LLP moved to its current home at 525 Windsor Ave., near city hall, in April 2021, said Tom Porter, the firm's senior partner.
Article content
Finding a new location for its lawyers became a priority in November 2019 after they were chased out of the Westcourt Place due to a basement fire that emptied the high-rise building, followed by a scramble for temporary facilities.
While that moving around helps illustrate Mousseau DeLuca's staying power, Porter said it's constantly planning for the future that has seen the company sustain itself over 100 years.
"Lawyers die off and they have no succession plans. We managed to have a succession plan that works," he said. And it's not just retirements that necessitate new blood flowing in, but politics and promotions — a number of company alumni have become judges.
Founded in 1923 by Norman McLarty and Gordon Fraser, the former would move on in 1934 to become Canada's secretary of state in the cabinet of Prime Minister Mackenzie King. Porter, a Windsor city councillor from 1982 to 1994, recalls senior partner Edward Dube bringing his son to work to do photocopying — Brian Dube is now a judge in the nearby Ontario Superior Court of Justice building.
After Ed Dube — whose separate firm with Armando DeLuca partnered with Max Mousseau in 1966 — died at only 48 years of age, the other partners brought in three new partners, including Porter, in 1982.
Article content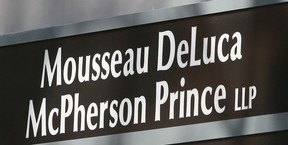 Another key ingredient to longevity, according to Porter, is getting along, particularly in a profession typically crowded with Type A personalities.
"Windsor's a small enough town that dealing with other lawyers, and clients, things can come back to bite you in the back (if you're not) courteous and polite," he told the Star. The partnership has seen a number of mergers and partnerships over the decades.
Porter, who began at Mousseau DeLuca as an articling student in 1978, said the company has always encouraged family life and community service. He said he was fully supported by his colleagues during four terms as a municipal politician.
Related Stories
Two Windsor area lawyers appointed as Superior Court judges

Court endorses class-action lawsuit for Westcourt tenants
Mousseau DeLuca is a full-service law firm, with 14 current lawyers active in criminal and civil litigation, family law, business and corporate, personal injury, real estate, land use planning and municipal law cases. The firm acts as agent for Canada's Director of Public Prosecutions, representing the Crown in prosecuting narcotics, income tax, fisheries and other federal cases.
The celebration on Thursday (Oct. 5) at 525 Windsor Ave. runs from 4 to 7 p.m. and is open to all.