You may know it as grandma's favorite pastime or the biggest vexation to hit tennis players since Serena Williams' retirement, but like it or not, pickleball has officially taken the world by storm. And with that storm has come a flurry of wellness-minded (and, frankly, uber-competitive) travelers who are dropping tons of their hard-earned cash to jet to far-off locales to participate in pickleball clinics and weekend tournaments.
It may seem bizarre and even cult-like, but pickleball—the fastest-growing sport in North America—is ultimately a low-cost, highly social activity that doesn't demand much overhead from hotels to meet its overwhelming demand. In fact, they're downright twisting the lid off what they once perceived to be their destination's main draws (i.e. watersports, spas, and restaurants) and drinking their weight in the pickleball Kool-Aid—er—juice.
"Pickleball vacations have become extremely popular in the past five years, with many of them led by well-known professional players," confirms Melisssa Zhang, director of communications and content for USA Pickleball. The governing body of the sport in the US, they're currently eyeing the 2028 Olympics in LA. "These trips draw travelers looking for a relaxing vacation that will also improve their skills on the court."
While typical getaway activities like golf, surfing, skiing, and the aforementioned tennis may be considered "stretch goals," per Zhang, pickleball's ease of play makes it all the more approachable.
"With other sports, you may have to take lessons or receive instruction for a time to get up to a relatively capable playing level," she says. "With pickleball, it's easy to pick up the sport in just an hour or two."
Marcos Landavazo, tennis and pickleball instructor at Rancho La Puerta Resort & Spa in Tecate, Mexico, echoes this sentiment. "Pickleball has gained popularity because the game is simple to learn," he says. "I think it also appeals to many players because you don't have to run as much as when you play tennis."
Landavazo has personally seen a significant uptick in guests traveling with pickleball as a primary focus. The property has been putting on multiple pickleball-themed weeks every year since 2019, and even hosted its first internal tournament 2023 to resounding success.
LA-based Clare Hines, a self-proclaimed pickleball addict, counts herself among Rancho La Puerta's returning guests.
"I divide my life into BP and AP—before pickleball and after pickleball," she reveals. "I truly don't know what I did with my time before I started playing."
"I moved to LA right before the pandemic and didn't know anyone, so pickleball gave me an instant community," she says, explaining that her interest ramped up rather quickly. "I found myself rearranging my schedule so I could play more pickleball and soon started playing every day of the week. If too much time goes between playing, I start to get restless—it's all about getting my next fix."
Whether you're considering your first foray into the pickled waters or you're already a pretty big dill on the court, you'll find a handful of resorts around the world ready and willing to satisfy your briny craving. Just remember to hydrate.
Montego Bay, Jamaica
Pickleball in the middle of a luxurious Jamaican resort? Oh yes. As the sport trickles out of the US and into Mexico and the Caribbean, luxury properties like the Tryall Club are billing themselves as tennis and pickleball destinations complete with oceanside courts, private lessons, and an entire concierge program dedicated to outfitting paddle-wielding guests.
Healdsburg, California
While we certainly don't encourage dinking while drinking, you can have your wine and pickle it, too, at Healdsburg's newest resort. Hidden among rolling vineyards in the Sonoma Mountains, it's an ideal destination for those who want to disconnect from the real world and kick back in what feels like an ultra-luxe summer camp for adults.
Colorado Springs, Colorado
The Broadmoor may be most known for its picturequest mountain views, but pickleball fanatics now know it as the place to escape for weekend tournaments, camps, and even crossover partnerships with the hotel's culinary team. Case in point? Their popular Pickleball, Pasta, and Pizza, an event that combines pickleball, pasta-making, and wood-fired pizzas.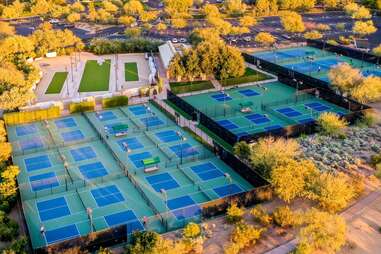 Phoenix, Arizona
Boasting a whopping 17 courts, the JW Marriott Phoenix Desert Ridge has gone all in to celebrate pickleball's rise to power. One of the courts has been extended with seating options for tournament play and the resort also hosts an on-site racquet club where guests can browse and buy all the latest in pickleball gear.
Maui, Hawaii
The Four Seasons in Wailea is not only where they shot the first season of White Lotus, it's also home to intense pickleball play, among a plethora of other beach-side activities. (On-site theft, murders, and betrayal not included.) And beginning October 8, West Maui hotels outside of Lahaina will start to reopen, allowing visitors to book trips to the fire-ravaged island in an effort to support local tourism.
West Hollywood, California
Le Parc at Melrose takes its pickleball offerings very seriously, hosting a slate of what they call "Play and Sip" programming in partnership with LVBL and Swimply. Here, guests are invited to take a dip in the property's iconic pool, play a few matches, and then refresh with craft cocktails. But what sets its courts apart from others on this list is its rooftop's panoramic views of Downtown LA and the Hollywood Hills that may, if only for a moment, prevent anyone from keeping their eye on the ball.
Various locations
All 15 ships in Princess Cruises' fleet now offer rooftop pickleball courts, making it the perfect activity to partake in during a day at sea. Pro tip: If open play isn't on the menu, be sure to reserve the courts as soon as you board, as they tend to book up quickly.
 
Various locations
You can now travel to Europe and South America to immerse yourself in tournaments and training through sites like PickleballGetaways.com. Upcoming all-inclusive trip destinations include Portugal, Spain, and Ecuador with Italy and Greece on the horizon. Each guarantees over 12 hours of playing time, paired with tours and excursions so that you can balance your pickleball obsession with some quality sightseeing.
Joey Skladany is a contributor for Thrillist.