As one of the most famous Ancient Egyptian pyramids, the Pyramid of Khafre on the plateau of Giza has been a true wonder of the Ancient World ever since its construction around 2570 BCE. Today, well over 4,500 years later, we are still as puzzled as our ancestors over the past hundreds of years how exactly this and other pyramids were constructed. Although many theories exist, including ramps that envelop the entire pyramid, to intricate construction methods from the inside out, the only evidence we have left are these pyramids themselves.
This is where the jokingly called [History for Granite] channel on YouTube has now pitched some new ideas, involving the casing stones that used to fully cover the Pyramid of Khafre, prior to widespread theft and vandalism.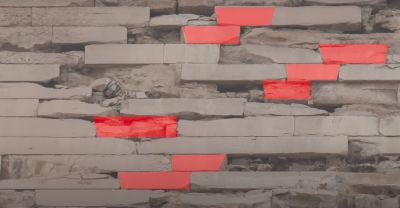 Despite the pyramids of Giza in particular being a veritable tourist trap, said tourists are heavily discouraged from climbing onto the pyramids, or even set up high-powered camera gear on tripods near them. Even with drone footage available, it was necessary to get a zoomed-in look on the casing stones that remain on the pyramid of Khafre near its top at well over 100 meters. Working within these limitations, it was possible to take detailed photos of three sides of the pyramid, which revealed interesting details.
In the top screenshot from the video the top of the pyramid is visible, which gives some indication of just how much the pyramid may have shifted out of alignment due to earthquakes over the millennia. This turned out to be not significant enough to account for some purported 'gaps' between the casing stones, with supposed 'filler material' from scaffolding holes explainable as just broken off sections of these casing stones. What was more interesting was that a pattern could be found in so-called bonding stones.
These bonding stones have a slanted end, so that they can be lifted slightly above a matching slanted stone, before being lowered to complete a row of bricks or stonework. After analyzing the three faces of the still mostly intact casing stones, a clear pattern emerged, such as that on the north face, pictured here.
What this suggests is that each row of casing stones were laid down by multiple groups of workers, each starting at a specific point before coming together where those sections would be joined with a bonding stone. This lends credence to the theory that the pyramid was constructed layer by layer, including the outer covering. To further examine these clues, the even older Bent Pyramid at the royal necropolis of Dahshur with mostly intact casing stones will be examined in more detail next.
If anything this series shows just how much there still is that we don't know about these massive construction projects that are really only preceded by the works of the Sumerian and Akkadian people.